A house becomes liveable ,welcoming and comprehensive, only after the furniture is moved in. Dinning room  is my favourite part of the home. Its just the family , friends, food, and the conversation in front of you . It gives us the life's lesson to focus on what is present and how to be mindful to each other. no matter how busy everyone's schedules are. Its really nice and amazing to have constant family dinners in the dining room to depend on. The fondest memories are made when families gathered around dinning table. Sitting around the dinning table can be the one among the event of a busy day that you actually have control of. Finding the time to unwind and relax can  start from your dinning table by discussing things other than work and nourishing your soul and body, so its very necessary  to own a right dinning table. Hence , If people are core of your home, then the OTIUM LIVING furniture is the character highlights your essence! Your dinning space should make you feel proud by turning the space more attractive and appealing with quality dinning table.
The focal point of any dinning room is the dinning table .Finding the right dining table is the key to bring the space together. It's where your friends and family gather so it's important to make the place comfortable ,you 'll want to fit it aesthetic and enhance the design of your home.There are variety of shapes and sizes to choose from ,so let us explore steps to choose the RIGHT DINING TABLE.

SHAPE
The foremost factor to look  for choosing a table is to decide which shape to consider because the shape of the table is going to beautify your dinning room and add character to it.
There are 4 basic shapes of dinning table available. 
#ROUND TABLE
Round table works well in small dinning room with square shape space.
It fits best for small group of people and creates a intimate setting.
When you use larger round table it makes people feel far away from each other . Round tables works best if you have limited group of guest or family members at home.
Most of the round table comes with single leg allowing more legroom for people.
For versatility ,OTIUM LIVING could customise a round table with a leaf that changes into a oval shape to accommodate larger group of people.
#OVAL
An oval table visually uses less space because of its rounded corners.
Oval table fits well in a narrow room or rectangular room. its is a symbol of sophistication, because their unique shape allows them to look beautiful  just about anywhere, a small room or a large space.
#SQUARE
A square table looks best in a square space.
Its a great solution if you are having only few people visiting your home. But you can always put two square tables to make it a rectangle table so it can accommodate more people.
#RECTANGLE
This shape of table is most commonly use in larger dinning rooms and can seat a large number of guest.
Their linear shape allows much space to walk around the table.
Simply by using a long bench instead of chair can save a lot of space in a tight dinning  rooms.
CLEARANCE SPACE
When you are deciding to buy a table according to the dimension and size its important to measure the TABLE-TO-WALL clearance space.
You need enough space for the diners to get in and get out of their seat with ease. The thumb rule is to keep 3 feet of space from the dinning chair to the wall for easy movement around the table.
If you don't have enough space around the table its wise to construct a buffet hutch in your dinning space.
DRAW ATTENTION TO THE TABLE SUPPORT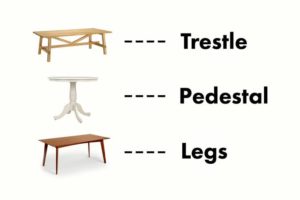 The base of the table is usually called the legs.
The legs are the support system of the table.
Legs can have the affect of how many people can fit at a table.
when you see the table in person , sit at it to see you legs doesn't hit with the table's leg.
Verify you have enough space to comfortably land you knees or cross your legs.
A centre base leg is the best option to squeeze in more people.
DINNING CHAIRS
You need dinning chair to be comfortable and easily blend with the style of the table.
To get an idea of the number of chair you will be needing ,you have to consider the size of the room and the size of the dinning table.
Remember calculating the space between the two chair as well as the actual space a dining chair will occupy and plus additional place when the chair is pulled away from the table.
It's entirely upto your decision to have an arm or arm less chair.
Select right material for the chair as it determines the look and feel.
DINNING BENCHES
Dining benches optimises horizontal space .
we can mix up chairs and bench to bring a classic look to the room.
It makes aesthetic sense and acts as space saver in the dinning room as bench can be tucked under dinning table.
A bench seat works well if your table's one side is facing the window.
Its a great option for a family with kids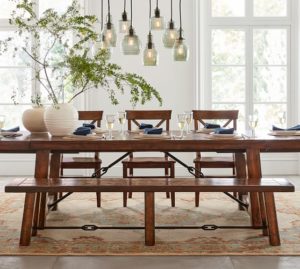 Now that you must have gained enough basic ideas about flaunting a right table in the house. Spread the right knowledge and make the right purchase decision.To help you make this wish today ,OTIUM LIVINGS genie is out of the bottle ,write us on digital@woodexperts.com . Still feeling overwhelmed by many options and styles OTIUM LIVING has ? give us a call and also don't forget to share your thoughts below in the comment section..
HAPPY DINING!!!!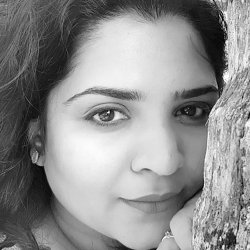 Latest posts by Shakuntala
(see all)